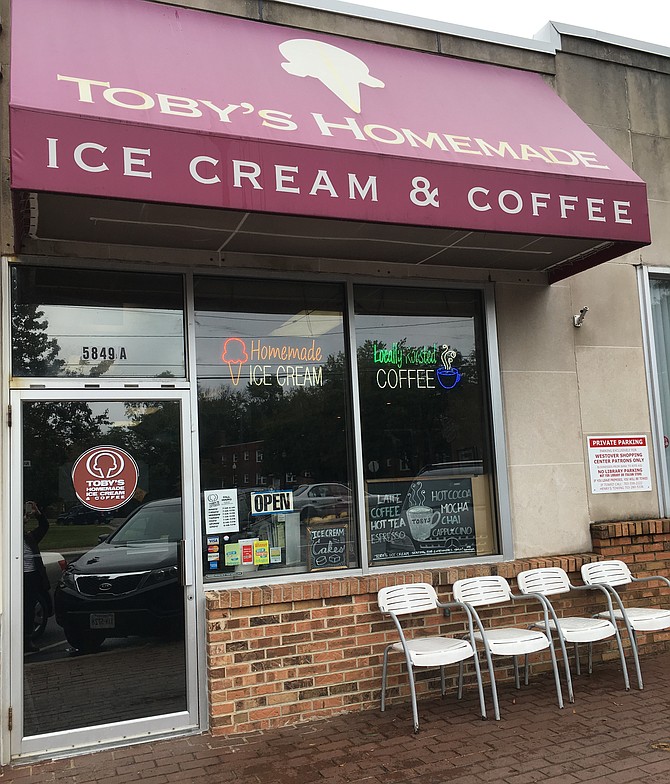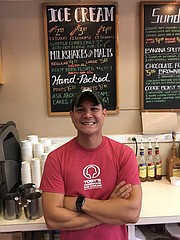 Toby's Handmade Ice Cream and Coffee Shop has been a neighborhood fixture in the Westover community for a decade. In the mornings, customers pick up coffee and doughnuts. The coffee is made by Swing's Coffee Roasters, known for their sustainably grown coffee beans. Their doughnuts are delivered daily from a local bakery. Friday afternoons are marked by a long line of students ready to treat themselves to ice cream after a long week at school.
Ten years ago, husband and wife Toby and Monina Bantug were house hunting when they spotted the ice cream shop Scoop's and learned that it was for sale. They decided to buy Scoop's, later changing its name to Toby's in 2010. Buying the ice cream shop wasn't a whim. They both come from entrepreneurial families. Toby Bantug manages the day-to-day operations of the shop while Monina Bantug who is a CPA is employed by the Peace Corps.
Toby Bantug has always been fascinated with ice cream starting with taking a short course on ice cream making at the University of Maryland. "I've been making ice cream all my life," said Toby Bantug who has worked for ice cream shops like Georgetown's Thomas Sweet and Ben and Jerry's. He is passionate about their homemade ice cream, explaining it is "made in small batches by hand using all-natural ingredients." They don't use flavor injectors and their ice cream has a higher butterfat milk percentage.
Though vanilla, strawberry and chocolate are the top flavors in the shop, other crowd favorites include espresso chip, smores, oreo and cookie dough. Pistachio and butter pecan are not as popular, but he believes in holding on to old school flavors. Green Tea is also on the list as it is his favorite. They are also thinking of new flavors to add to their existing lineup. With the increasing popularity of Filipino food, the couple, who are Filipino, also hope to reintroduce Filipino flavors such as ube (purple yam), macapuno (young coconut strips) and mango soon.
Toby's is immersed in the community. Inside the shop is a row of paintings for sale. The Arts Alliance of Virginia uses Toby's walls as an additional exhibit space for its artists. Toby's also regularly sponsors community activities with neighboring businesses. They hid 3,000 eggs at the last Easter Egg Hunt, which he says are gone in five minutes. Toby's also encourages students to do well in school with a free scoop of ice cream for students who present report cards with straight As.
"We try to keep our prices reasonable and affordable," said Toby Bantug, "that is really something we like to focus around here."