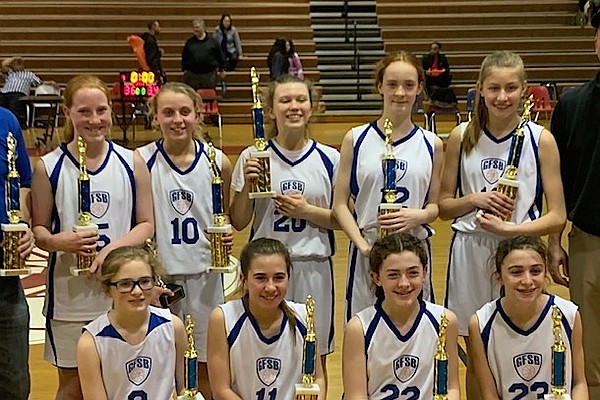 Tuesday, March 12, 2019
On Sunday, March 3, the Great Falls seventh grade girls select basketball team won the Fairfax County Youth Basketball League Girls D2 Championship. The girls also won the Division with a 12 -1 record. Their only loss was against Arlington, which was the team they faced in the championship game. The regular season game was an overtime loss for Great Falls. The championship game went into overtime as well with Great Falls trailing the entire game but tying it up at the end of regulation. The girls won in overtime 36-34.
Their season consisted of several games where the team fought through 10 point deficits, stayed positive and won in the final seconds or OT. Many of these girls have been playing together for years and their perseverance as well as their comradery and team spirit are essential keys to their success. It has been several years since a Great Falls girls team has won at the county level and even longer for a combined division and tournament championship. The girls were led by head coach Jack Kerrigan and assistant coaches John Brennan and Fran Exley.