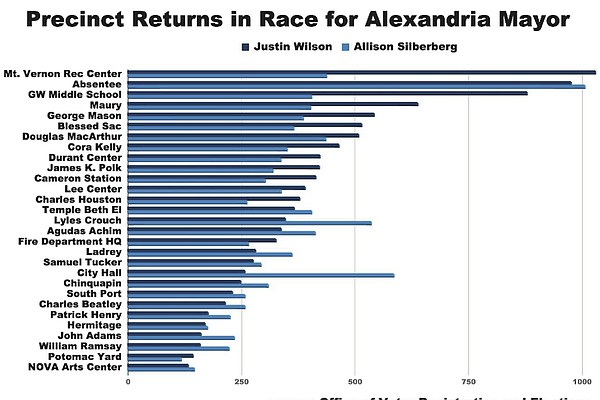 Friday, November 8, 2019
Del Ray can boast that it's the center of power in Alexandria, the home of both Mayor Justin Wilson and Sheriff Dana Lawhorne. Old Town, on the other hand, doesn't have as many voters or as much clout.
"People complain that Old Town has lost its influence," says Yvonne Weight Callahan, former president of the Old Town Civic Association. "It's caused some people to [want to] go back to a ward system."
For many years, Old Town dominated city politics. Del Ray didn't even become part of the city until 1930. Now it seems the influence of the "little neighborhood that could" has become outsized. Del Ray has about 250 more active registered voters, and those precincts had a higher turnout last year. The Mount Vernon Recreation Center alone contributed more than 9 percent of the total number of votes for Justin Wilson. Allison Silberberg, on the other hand, had a strong showing at City Hall and Lyles Crouch. But it was swallowed up by the overwhelming numbers coming out of Del Ray.
"Del Ray is more active, and they're more politically involved," says Frank Shafroth, director of the Center for State and Local Leadership at George Mason University. "So they're exercising a greater impact on the direction of the city."
Nowhere is that impact more apparent than the waterfront, an issue that polarized politics in Alexandria for years and became a central point of distinction in the primary. Silberberg made a name for herself by opposing the small-area plan, which increased the size and scale of development at old industrial sites along the waterfront. Her campaign had support from many voters in Old Town who believed the zoning changes were too extreme.
"The rest of the city didn't buy what they were selling," says former City Councilman Lonnie Rich, a former president of the Del Ray Citizens Association. "They wanted to basically shut down development on the waterfront and keep it like it was, and the rest of the community supported the waterfront plan."
Recent years have seen a number of influential elected officials from Del Ray, including former U.S. Rep. Jim Moran (D-8), who got his start in politics at the Del Ray Citizens Association. Others include former Mayor Bill Euille, former Sheriff Jim Dunning and former City Council member Rob Krupicka. Old Town, on the other hand, has a limited number of luminaries in recent years: former Mayor Patsy Ticer and former City Councilwoman Lois Walker chief among them.
"Del Ray certainly has a lot of influence today," says Silberberg. "But the pendulum obviously can swing."
Wilson and Silberberg didn't agree on much during the campaign. But now that the race is a distant memory from last summer, here's one thing they agree on — the city's mayor has a duty to represent all of the city rather than any of its neighborhoods, despite how many voters are there or how much clout they carry.
"I'm focused on serving the entire community," says Wilson.