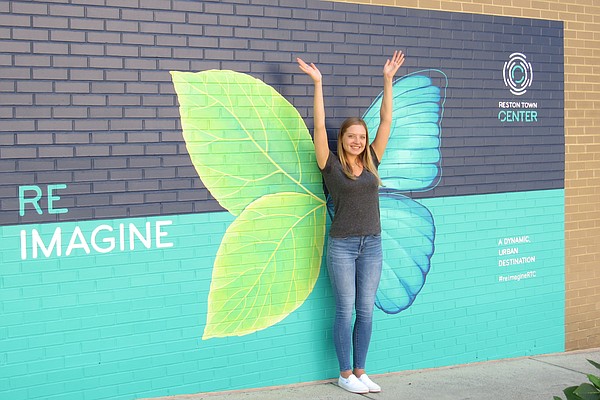 Wednesday, September 11, 2019
It's all about timing. Reston Town Center is about to get some "enhancements," according to a spokesperson at TAA Public Relations, a luxury public relations marketing and special events firm for Boston Properties, Reston Town Center. But they are not quite ready to give the details.
Over the summer, people discovered the new circular Reston Town Center logo on its web page and Map & Event Guide. Signs at the Mercury Fountain Plaza announced healthy trees would be planted there soon. Sets of new white rocking chairs rested on the plaza and two new stores opened, North Italia and The Glossary Nail Spa.
This week, on Freedom Drive, Dominique Koethe of Reston discovered a double leaf-butterfly wing mural opposite the RTC Green Garage just waiting for her photographic experience in the "dynamic urban destination, #reimagineRTC."
In an inquiry to TAA Public Relations about the recent changes, a spokesperson wrote the Connection, "I know you were interested in discussing the mural, but we would love to wait to tell you a more complete story about the rebrand. There are very exciting things coming and the mural is one piece to the enhancements happening at Reston Town Center." The spokesperson added she would be in contact "on a later date to tell the story."