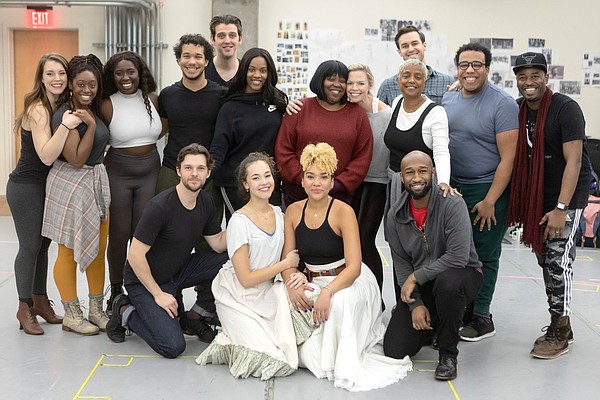 Wednesday, February 5, 2020
Signature Theatre is staging the world premiere musical, "Gun and Powder," from now through Feb. 23 at its Max Theater. Inspired by a true story, make way for the Clarke sisters in a dynamic, moving and inspiring story of notorious outlaws who ruled the Wild West.
To help their mother settle a sharecropper debt, Mary and Martha Clarke—African American twins—pass themselves as White to seize the funds by any means necessary. However, their bond of sisterhood is tested when they fall in love with two very different men, one black, the other white.
Award-winning director Robert O'Hara (Broadway's "Slave Play") makes his Signature debut in this soaring musical that examines race, family and identity with two electrifying women who went from farm girls to legends with gun and powder. The musical direction is by Darryl Ivey and the choreography is by Byron Easley.
The show's writers, Angelica Chéri and Ross Baum, met in the Graduate Musical Theatre Program at New York University. "I (Angelica) had been carrying around the myth of my great-great aunts, Mary and Martha Clarke, for many years and had thought it would make an interesting story for the stage. When it came time to partner up and write our thesis projects, I presented the legend to Ross. He was instantly hooked. The idea of two women of color, riding through the West, taking matters into their own hands screamed 'musical folktale' to him. So, we dove in," she said.
"We started writing 'Gun & Powder' right around the time Mike Brown was shot and killed by the police in Ferguson, MO, and at that time, we were so eager to finish developing the show and share it with the world because of how relevant it was to the time," she said.
She continued: "Seven years later, in arguably the most polarizing moment our nation has ever seen, it is even more relevant. Truthfully, it has been relevant for over 100 years and will continue to be relevant because of the foundational societal constructs on which this nation was built: race and color. We hope that our show would lift the veil on the superficiality of these constructs and help people to recognize how trivial the lines we've drawn to define ourselves. In actuality, we're much more similar than we are different. Because we're all just people."
As far as audience takeaways, she added: "The lasting idea that we'd love to leave in everyone's minds as they leave the theatr is just how similar the social climate of 1893 is to 2020. Not much has changed."
Signature Theatre is staging the world premiere musical, "Gun & Powder," from now through Feb. 23. Show times are Tuesdays through Sundays at 7 p.m.; 7:30 p.m.; and 8 p.m.; Saturday and Sunday matinees at 2 p.m. Discussion Nights are Feb. 18 and 19; and Pride Night is Feb. 7. The venue is located at 4200 Campbell Ave., Arlington. Visit the Box Office at 703-820-9771. Visit the website: www.sigtheatre.org.