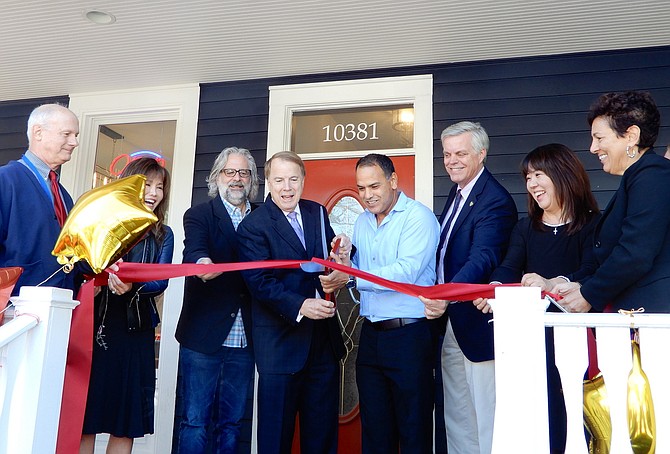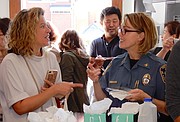 With nearly two decades of experience in commercial and residential kitchen, closet and bathroom design/remodeling, Biltmore Design Galleria has already amassed a stellar reputation in Chantilly. And now, local residents may also avail themselves of this business's expertise, since it recently opened a second location in Old Town Fairfax.
And owners Dave Omary and wife Kelly Seungyon didn't choose just any building in which to set up shop. They selected the historic Sauls House, which holds special meaning for Fairfax City Commissioner of the Revenue Page Johnson.
"My great aunt, Mary Sauls, lived in this house and ran a boarding house here," he said, during the new business's grand opening at 10381 Main St. "And I'm glad to see that they've kept the integrity of the building."
Also pleased to welcome Biltmore Design Galleria to the City was Fairfax Mayor David Meyer. "For this business to come and have a presence in this City speaks volumes about our commitment to businesses that are filling a niche," he said. "People can come to places like this and get exactly what they want."
He said customers reap the benefits of the owners' expertise, while having their interior design customized. And besides that, added Meyer, "It's important that we have a design-build business in this cool, 127-year-old building."
Noting that Biltmore Design Galleria has been in business for 18 years, Danette Nguyen, with the City's Economic Development Office, said, "The owners believe everyone should have their dream kitchen, bathroom and closets. And now that they have their Fairfax City location, they're able to make these dreams a reality."
"We're excited to be here," said Omary. "We chose this area because we like the City's downtown. I like to support the City and have our business in a small town where everyone knows each other." He said he'll make sure things are running smoothly at both their locations, but his wife is the designer.
"We help people with the color and design of their cabinets, floors, paints, etc.," he explained. "We don't charge for design or measuring, just for the work and materials."
Delighted by the turnout at the grand opening, Omary said, "I see the mayor, Council members and City representatives here, plus old friends and customers, which means a lot. This is amazing to see everyone here to support us."
Biltmore Design Galleria is open Monday-Saturday, 9:30 a.m.-6 p.m., and Sunday, by appointment only. Phone 571-340-3566.