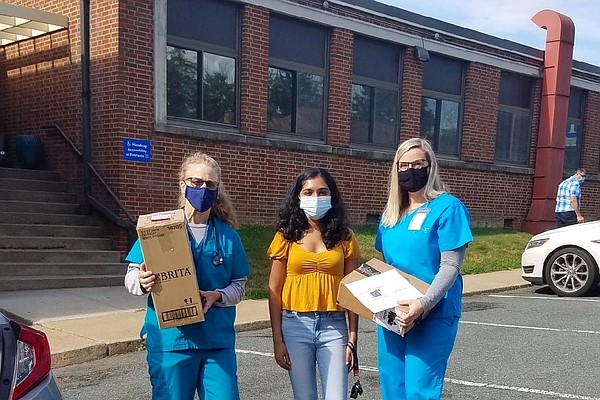 Thursday, July 23, 2020
On a recent summer morning, a group of college students gathered to sort and sanitize handheld devices ranging from smartphones to tablets. The equipment was given to a local medical clinic and then distributed to seniors who don't have the means to purchase their own, but need to stay connected to healthcare providers, family and friends.
"Through my work, I've seen seniors isolated at home," said Tanvi Nallanagula, a junior at the University of Virginia and an EMT (emergency medical technician). "This effort is important to me because I can't imagine being quarantined in my house without access to doctors or friends and family."
"Sometimes it's difficult for seniors to know how much medication to take, for example," she continued. "These devices will make it easier for them to ask for help and get the information they need."
"I felt that sitting at home during quarantine and not being able to be productive was quite tedious and I felt that I needed to do something and that is when a family friend of mine told me about this cause," said Rithvik Ayyagari of TeleHealth for Seniors Maryland Chapter. "I felt that I needed to do this not only to be productive, but also because I want to always make a positive impact in my community especially during these unforeseen times."
Telehealth Access for Seniors is a non-profit organization with a mission to collect and distribute handheld devices to low income seniors and veterans through free clinics and other health care providers. Once they collect and sanitize the devices, they contact clinics that serve those populations.
"Clinics give us a ballpark of what they need and we tell them what you can reasonably deliver," said Sneha Thandra, a junior at Emory University and the Virginia State Lead for Telehealth Access for Seniors. "We've been talking with INOVA because they have so many clinics all over Northern Virginia. Within a month we'll have devices to donate to them."
The group is in need of smartphones or tablets that have cameras and the ability to connect to the Internet. "There are people who have devices in their homes that they no longer use because they've upgraded," said Thandra. "Older and low-income patients tend to be more vulnerable and have more complicated medical needs. These devices give them the opportunity to access care and prevent unnecessary medical complications."
"We're also collecting money from corporations, family, friends or through fundraisers to buy new ones," added Rachana Subbanna, a junior at the University of Virginia. "Anything helps, even $5. If someone doesn't have an old device to donate, but wants to donate $40, that's enough money to buy a device."
The organization was founded in response to the COVID-19 pandemic and is part of Telehealth Access for Seniors, a national organization run by 120 volunteers in 26 states
In addition to devices, the student volunteers provide instructions and free tech-support. In order to continue providing this service in Northern Virginia, they need more volunteers and continued donations.
"An interesting approach is to focus on mental health," said Thandra "We know that during this time a lot of seniors will be lonely so we wanted them to be able to connect with family and friends."
For More Information or to Donate:
https://www.telehealthforseniors.org/
To Donate: