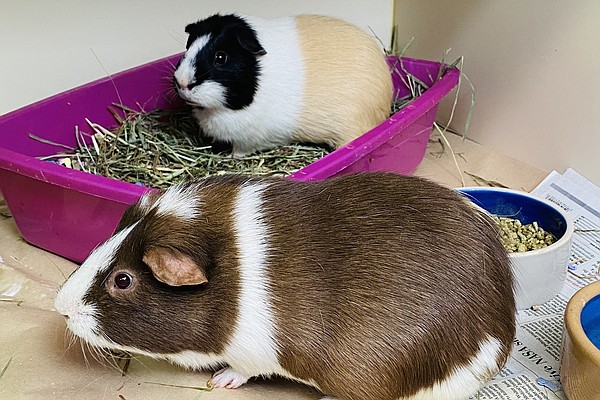 Friday, October 16, 2020
Getting a guinea pig was pretty exciting for 6-year-old Will Piper of Vienna. Piper, now 18, remembers Buddy fondly as a great pet who would squeak every morning for his breakfast. It's worth pointing out that Buddy's favorite breakfast of three blueberries made Buddy much cheaper to feed than say, my beagle.
LIttle Buddy brought lots of fun and laughs into the Pipers' lives. No one in the family is likely to forget the time when Buddy crawled up the shorts of Will's older brother, apparently "until he could go no further." I'll leave the rest of that little scene to your imagination.
Piper recommends guinea pigs as great pets for kids. But they also make great pets for adults. They are beloved for their perfect size and cuddliness. They purr a bit like cats when content and guinea pigs are smart. They can be taught to come when called, stand up on command, push a ball, jump through hoops and more.
They like to interact with their humans and generally don't see playtime as an opportunity to head off on their own adventures. You can even teach them to use a cat litter box to take care of business, which can provide a welcome option to keeping things clean.
All that is pretty great, but honestly, I think the coolest thing about guinea pigs is that when they are super happy, they do a little dance move called "popcorning." It's really not describable, so if you are unfamiliar, as I was, it's worth googling. But beware, you may fall down the same rabbit hole of hilarious guinea pig videos that I did.
You can save a little time by checking out the first 30 seconds of this YouTube video which is being posted solely to show popcorning pigs in highly entertaining slow motion.
Originally planned for this week, as you might have surmised were two guinea pigs; Neapolitan and Coffee. They had had a pretty crummy deal so far. The pandemic has been difficult for many families. Their first family dropped them at a friend's house for what they said was a temporary visit and never returned. Adorable as they are, that family's cat did not enjoy the company of the pigs. And that meant another transition for these two little bundles of joy and a drop off at the Arlington Animal Welfare League shelter.
Every day, Neapolitan and Coffee were lonely and desperate for someone to recognize how cute, friendly and fun they are and come to take them home. They hoped for a nice person, couple or family who will lavish them with love, attention and snacks and who will teach them all kinds of tricks.
Well I just love it when there is good news. Between writing and just before publication, Neapolitan and Coffee found their forever family! So cute as they are, they are no longer available. However, there are two adorable little bonded brothers who just came on the scene and ARE available.
Slick and Grizzly are at the Animal Welfare League of Arlington. You can schedule a date to meet them by going to: https://adoptionsbyappointment.youcanbook.me/. The AWLA schedules exactly 24 hours in advance, so they recommend going to the scheduling page 24 hours ahead of the time you would like to have your meet and greet, to book. If they are gone by the time you get your chance, no doubt more guinea pigs will turn up soon.
If these sweet guinea pigs are not a good fit for your household, please share their story and help them to find their forever home.
ArPets is a weekly feature for highlighting the well-loved pets of Arlington as well as animals who are available for adoption. If you or your dog, cat, iguana, bunny, rat or any other pet, has an interesting pet story to tell, email me at joan@joanbradyphotography.com.
Joan is an award-winning Connection Newspapers columnist and local photographer specializing in pets, children and families and contemporary business portraits.