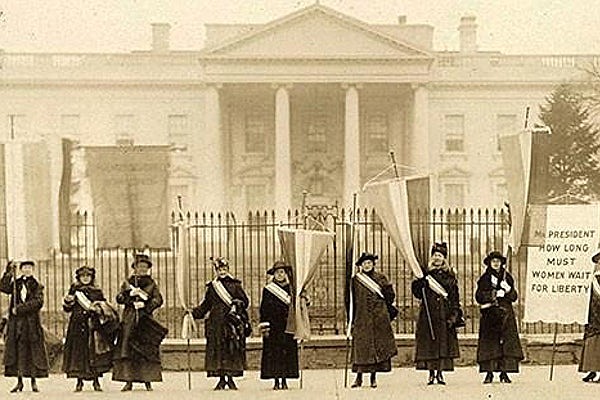 Monday, August 23, 2021
Thursday, Aug. 26 9-9:30 a.m.
Corner of South Saint Asaph and Prince Streets
RSVP online through this link: https://www.eventbrite.com/e/quiet-sentinels-historic-marker-dedication-tickets-166454575115
The Office of Historic Alexandria and Alexandria Celebrates Women will dedicate a historic marker to recognize the women who bravely endured imprisonment and brutality in their efforts to gain the vote for all American women.
The tabletop marker – designated as part of the Alexandria Heritage Trail – was recently installed near the intersection of Prince and South Saint Asaph Streets in Old Town Alexandria. The site housed the United States District Court for the Eastern District of Virginia in the early 20th century. The third-floor courtroom was located in the old Customs House, which stood on the corner of South Saint Asaph and Prince Streets. The formal dedication will be held outdoors with a reception and the inaugural guided tour of the new Alexandria Women's History Walk to immediately follow.
The marker reads:
Suffragist Prisoners at Occoquan: In November 1917, 32 suffragists were arrested in Washington, D.C. for allegedly "blocking traffic" on a Pennsylvania Avenue sidewalk. They were sent to the District of Columbia workhouse at nearby Occoquan, Virginia. The women were subjected to undue hardships and torture, resulting in the infamous November 14, 1917 "Night of Terror." A number of women prisoners were threatened, beaten and hurled against walls and floors. A few days later, force feedings began. The suffragist prisoners were eventually freed from Occoquan following a hearing in Alexandria's federal courthouse.
ABOUT THIS EVENT: In 1917, the "Quiet Sentinels," 32 suffragists peacefully picketing for women's enfranchisement, were arrested in the District of Columbia on a charge of "blocking the sidewalk" and sent to the Occoquan Workhouse. On November 14, 1917, the suffragists endured the infamous "Night of Terror," when many female prisoners were beaten and tortured.
The City of Alexandria, Virginia was, and remains, the location of the United States District Court for the Eastern District of Virginia; and was the site of the historic federal hearing on November 27, 1917, regarding the brutal treatment of suffragist prisoners held at the Occoquan Workhouse; and where their release from Occoquan was ordered.
In 1917, the Federal Courthouse in Alexandria, Virginia was housed in the United States Customs House, located at the corner of South Saint Asaph and Prince Streets. It was razed in 1930.
Join Alexandria Celebrates Women, the City of Alexandria, and the Commonwealth of Virginia for the formal outdoor dedication ceremony of a historic marker on this site to honor these brave women. The historic marker, initiated by Alexandria Celebrates Women, was installed by the Office of Historic Alexandria, and recognizes and celebrates the milestone achievements of all American suffragists and the critical suffragist court case that took place in Alexandria.