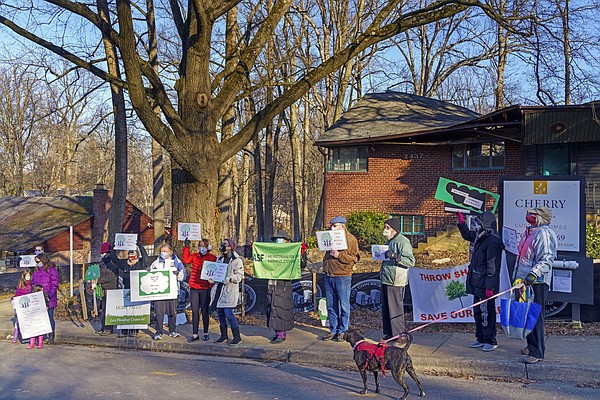 Friday, February 19, 2021
Neighbors along with Arlington Tree Action Group (ATAG) volunteers gathered Feb. 8 to protest "the unnecessary destruction of a Willow Oak in the corner of a lot at 2437 N. Utah Street."
Kit Norland, Urban Forestry Commission, said a developer told ATAG that in a similar situation nearby the developer was able to save that healthy Willow Oak by tweaking the plan a little. In this case Cherry Hill Custom Homes has slated the tree for destruction along with half a dozen additional trees next door.
A letter sent to ATAG by a neighbor on Utah Street states that this tree has a huge canopy that provides a lot of cooling shade to their property during the summers, and that this hilly neighborhood already suffers from severe flooding which the tree helps absorb.
ATAG also points out the presence of mature trees can increase the Arlington property values up to 10 percent. The tree also supports a population of song birds, hawks and owls that depend on mature trees to nest in.

Despite these efforts to get the developer to reconsider the plans for the new home, the bulldozers have begun their work and the back of the house has been removed and the roof mostly taken down. Neighbors indicate that the trees are to be cut this week.