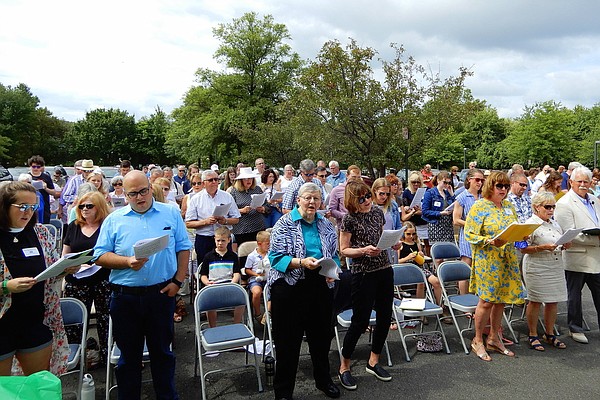 Sunday, July 4, 2021
The past, present and future united during the 50th anniversary celebration of King of Kings Lutheran Church in Fair Oaks. The June 13 service and ceremony honored the former pastors, while acknowledging the current members, plus the church's new campus in Aldie.
It was also attended by the present congregation, as well as members who'd moved away and returned for this special event. Pam McGovern, a member since 1990, said, "It really is a true family – welcoming and nurturing. It's like a small town in a big area, with a feeling of community. I started attending when I was single and then got married here, and our children were baptized here. This church has always been supportive – and you need that in life."
With just 71 members, King of Kings held its first service in 1969 at Christ Presbyterian Church, later moving to Brookfield and Greenbriar West elementary schools. Ten years later, it relocated to a doublewide trailer; then in 1989, it built a ministry center and preschool at 4025 Kings Way. It expanded both its sanctuary and school in 2002 and now has 175 worshiping members.
Claudia and John DeBusk joined 48 years ago, moving away 18 years ago, but returning for the ceremony. "Pastor Bill Ridenhour knocked on doors in Greenbriar and Brookfield in the 1960s, saying, 'I'm starting a church,' and we just loved him," said Claudia. "It's always been family-oriented, and we still keep in touch with the members."
George Cusson, a 35-year member, said, "It's all about community. We do a lot of volunteer work in the community, such as Martha's Table, and get out and help others. There's a lot of energy here, and the future looks extremely bright. We're already reaching out into western Loudoun to expand our church presence."
He described the current pastor, the Rev. Lynn Miller, as "a person of integrity and honesty, with a giving personality, and a genuine, nice human being." As for the church, he said, "You come on Sunday with whatever you're feeling that day, but you always leave uplifted."
THE COMMEMORATIVE EVENT was both in-person, outdoors, and livestreamed. "It's so good to have everyone together," Miller told the congregation. "What a beautiful day we have to kick off our all-year, 50th anniversary celebration."
Then, leading a prayer, Cusson said, "We celebrate Your divine grace and mercy that's sustained us for the past 50 years. To You, oh, Lord, be the glory."
Next, member Jim Nelson read a proclamation about the late pastor Ridenhour and presented it to his son, Carroll. It noted that Ridenhour was ordained in 1955 and served as King of Kings' first pastor for 20 years. He delivered his sermons from the heart, with just a few words scribbled on his palm. Often described as a "gentle giant," he made hospital visits and was also known for his North Carolina barbecue. The proclamation said, "Pastor Bill was truly the driving force in establishing the King of Kings." Then, expressing its gratitude for all he'd done, the church conferred upon him the designation of "Pastor Emeritus."
"I know he would have been thrilled," said his son. "He liked engaging with people, and he'd be ecstatic to know that this church is doing as well as it is."
Church member Linda Hewitt then read a proclamation giving the same designation to former pastor Geri Opsahl, who led King of Kings from 1992 until her retirement in 2001. The document said she "served our congregation with grace and compassion. She was small in stature, but huge in impact." Noting that "the words of her sermons echoed for some time," the church gave her the honorary title out of its "deep affection, respect and esteem" for her.
Health concerns prevented Opsahl from attending the ceremony, but Hewitt read a message from her. "My heart is with all of you, remembering our incredible years together," wrote Opsahl. "I'm humbled, honored and filled with gratefulness and joy to have had the privilege of serving this wonderful congregation.
"People who felt unworthy or left behind learned God cares for them. People who felt unacceptable found they were welcome in this place. People disappointed or hurt by life found a caring community. This church is a community of love and justice; so keep believing life is worth living, God is good and all will be well."
Also designated "Pastor Emeritus" was the Rev. Michael Magwire, the church's pastor from 1990 until his 2012 retirement. McGovern read his proclamation calling Magwire "the people's pastor, full of life, and making all feel welcome." It also conveyed the King of Kings' gratitude and appreciation for all he'd done as its pastor."
Accepting the honor, Magwire thanked the church and said it "has always preached the Gospel through words, actions and deeds."
MILLER, pastor there for six years now, told the attendees, "We're remembering our past, into the present, for the sake of our future. We're grounded in God's love for all of us. We live in the present and in the Divine, who gives us a future filled with hope and promise. Here at King of Kings, we build an intentional family, care for and support one another. We're blessed that, for 50 years, we've been doing God's work with our hands. May God fill you with joy, peace and believing."
After the ceremony, she said, "It's a great joy and honor to celebrate the church's 50th anniversary and be part of the vision for the future here and in Aldie. God has richly blessed us to be a blessing in the community and throughout the world. And today, we wanted to honor the work of our previous pastors; we wouldn't be here if it wasn't for them"
"What's incredible is seeing all the relationships that have been nurtured and formed here, over 50 years, and carried forward through multiple generations," said Mission Pastor Garrett Wolf. "Some of the families that began this church have kids doing the same thing now to help us start our new church."
"Throughout the years, King of Kings has been a vital hub for people united in caring for their surrounding community," added Administrative Assistant Fran Crabtree. "It's a place for anyone and all ages to feel welcomed and serve alongside one another in love. Our mission is being a safe place for all to explore faith, live beyond labels and find a deeply rooted and faith-centered community."
Services are Sundays at 10 a.m. For more information, go to www.kofk.org or call 703-378-7272, ext. 221.