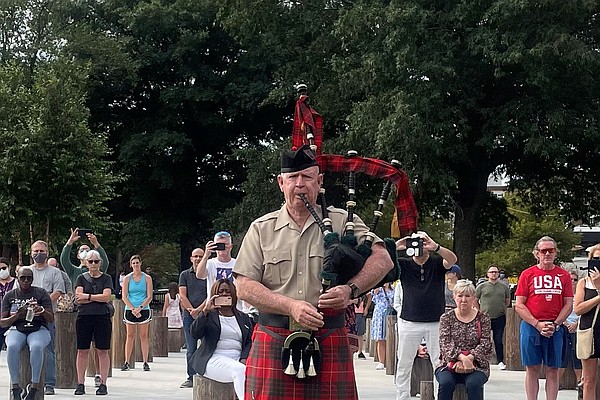 Monday, September 20, 2021
Alexandrians from across the city gathered in Waterfront Park on the 20th anniversary of the Sept. 11, 2001, terrorist attacks in New York, Arlington, and Shanksville, Pa., and to pay homage to the first responders and nearly 3,000 victims of that day.
Rep. Don Beyer (D-8) and Mayor Justin Wilson were joined by Alexandria Sheriff Dana Lawhorne, Fire Chief Corey Smedley and Acting Chief of
Police Don Hayes as more than 500 people gathered for the ceremony to remember and honor both the victims and those who responded and gave their lives in the search and rescue effort to save others.
"September 11 was an incredibly sad day," said Alexandria resident Melissa Riddy. "But the ceremony today was a beautiful reflection of what our community did and has done and it was wonderful to see everyone come together to celebrate and remember at the same time."
Alexandria lost 16 victims in the attacks and firefighters and first responders from the city were among the first to answer the emergency call at the Pentagon following the crash of American Airlines flight 77 into the building at 9:37 a.m. Victims included 64 passengers aboard the plane and another 125 in the building.
A wreath-laying and the traditional Return to Quarters bell ringing were part of the ceremony honoring the 2,977 victims of the attacks that saw
passenger planes turned into missiles and silenced the skies across the country.
More than 2,700 people died at the World Trade Center, including the passengers of American Airlines Flight 11 and United Airlines Flight 175. Another 44 died when United Flight 93 crashed outside Shanksville, Pa.
"I had just completed my paperwork to join the United States Air Force the day before the attacks," said AFD Capt. Sokthear Van. "After completing five years of service, I returned to this area to be near my family and friends and become a firefighter. I wanted something challenging and this is the perfect fit for me."
Added AFD Lt. Durant Cephers, "I was a sophomore in high school when the attacks took place. My father was in fire service so I was inspired by him and becoming a firefighter was a natural next step when I was ready for a career."
Resident Patrick Andriuk was among those in attendance at the ceremony.
"Everything today was beautifully presented," Andriuk said. "But what stands out are the words of Police Chief Hayes – 'respond, resolve, results.' His words really resonated and made you think back to that powerful day."