Wednesday, November 30, 2022
Good Company Donuts & Cafe
Customers crowd around the donut counter trying to make just the right choice of handmade donuts at Good Company Donuts on Small Business Saturday, Nov. 26. Chocolate cake crullers, jelly sticks, cinnamon buns, mocha-espresso or butter crunch donuts are only a start. Oatmeal with nuts and berries, avocado toast and egg bowls are also available.
Kate Murphy, one of the owners, is in the back of the store frosting glazed donuts and decorating them with multi-colored sprinkles. "This is one of the most popular donuts here; everyone loves sprinkles."
Murphy says the shop has been open since 2019 on this busy corner of Glebe Road. "My husband and I ran a donut shop in a small town of 5,000 in New Hampshire. It was more like a diner." Then she says her brother returned from the military and landed here. He said he needed family around so they looked for a place in the local area to open a donut shop. It took a couple of years to find the right spot.
Murphy says it is different because people in New Hampshire had cars and drove from all around to get their donuts. But here in Arlington it is mostly foot traffic from all the high rise buildings in the Ballston area and because of the parking problem. "In New Hampshire we had old fashioned donuts but times have changed on what people expect on a donut. When we moved here people asked 'where's all the stuff' so we added other things like the seasonal cider cake donut with apple spices and cider." She says next month it will be gingerbread.
Murphy, her husband, her brother Charles Kachadoorian (who she says is the brains of the operation), his wife Melissa and a friend, Tim Terry, all pooled their savings to be able to open the donut shop. "All the others have a secondary job, but I do this full time." She says business has been growing, and they are opening another location in the Amazon building soon. Murphy says they have a large-scale bakery under construction to finance the second location.
Despite all of the choices, the employee manning the computer says the favorite donut by far is the classic honey dip donut. "We sell two times more than anything else."
Cherrydale Hardware
Cherrydale Hardware, a local favorite since 1938, has just opened its annual Christmas shop. Jacob Pruiksma, the general manager at Cherrydale, is standing behind the counter as customers stream by. He says, "We open the Christmas shop on Black Friday every year. Customers are down there buying lots of cords and lights."
Alex Dobyan and his mother stand by the front counter asking for the tallest ladder that Cherrydale Hardware sells. They are putting up Christmas lights where they live just down the street. "My wife is home putting up Christmas lights right now," Dogyan says. His mother suggests she has been known to climb the ladder herself. She adds, "We buy everything here — dishwashing stuff, cleaning stuff."
Charles Ricci is returning an item today but he says he has been coming since 1987 when he moved here. "I come here when I am doing projects or if something breaks. They always have it. Local residents can't do without them."
Greg Lanzoni is from Berkshire Massachusetts, but is well familiar with Cherrydale Hardware. "My son lives in the area. I come here for the service as well as what I buy. They know where everything is, and they don't make you feel like you can't ask a question. This is like a general store in New England." And he says he can buy screws of different sizes, put them in the same bag and weigh them. "I can find things here I can't find in a regular store like duct tape or sheet rock screws by the number.
"If they don't have it here, you don't need it."
Rick's Tattoos
Rick's Tattoos on Langston Street is the oldest tattoo store in Virginia. Up the stairs and down the hall lined with sketches of flowers, dragons, cartoons, fantasies and up to the front desk where the General Manager will explore what kind of tattoo you have in mind.
Amy Jones has a number of her own tattoos—spiders, roses, hearts, a D.C. flag—everything. She says it is her self expression. "I started with tattoos because I was hurting inside and needed to hurt on the outside. It helped."
Three of her seven tattoo designers sit along the wall sketching out ideas. First they draw out the design, get approval from the customer and then they settle the customer in what looks like a dentist's chair where a tattoo can take anywhere from five minutes for a simple letter to five hours or more.
Brick, one of the designers, has just produced a "The World is Yours" design from the movie Scarface for somebody's leg. "They wanted to fill in some space. They trust me to come up with something they like. They come in all the time." He explains that a person can have a design in mind that doesn't translate onto paper or onto the skin.
Jones explains a tattoo artist has to have an apprenticeship but actually it takes forever. "It takes 10-15 years to master it. You're lucky to become that good." Brick says, "You dedicate your life. All of us are artists who do other things. The front desk guy does online digital art, and I paint toy soldiers. I've been doing that since I was a kid. It's gotten more complicated since I try to make them historically accurate." He says it's another way to express your art.
Jones says they tattoo people of all ages over 18. "There is no commonality in what they request. Sometimes it is something they have seen online. There are so many reasons to get a tattoo. Some want to look cool. They are way more popular with the advent of tv shows." Jones estimates they have about 15 customers a week. Brick says every new tattoo he does is his favorite.
As for the most unusual tattoo, "Where do you start? We have something new come in every day." One of the most unusual tattoos they remember is a woman who recently came in every day for 2-3 weeks until her entire face was tattooed. Another was "an 87-year-old man who wanted a rainbow and a leprechaun tattooed on his butt."
Rick's will be moving soon to a larger ground-floor place nearby with plenty of parking. But Jones says, "We're not going anywhere. Being a tattoo artist takes a lifetime."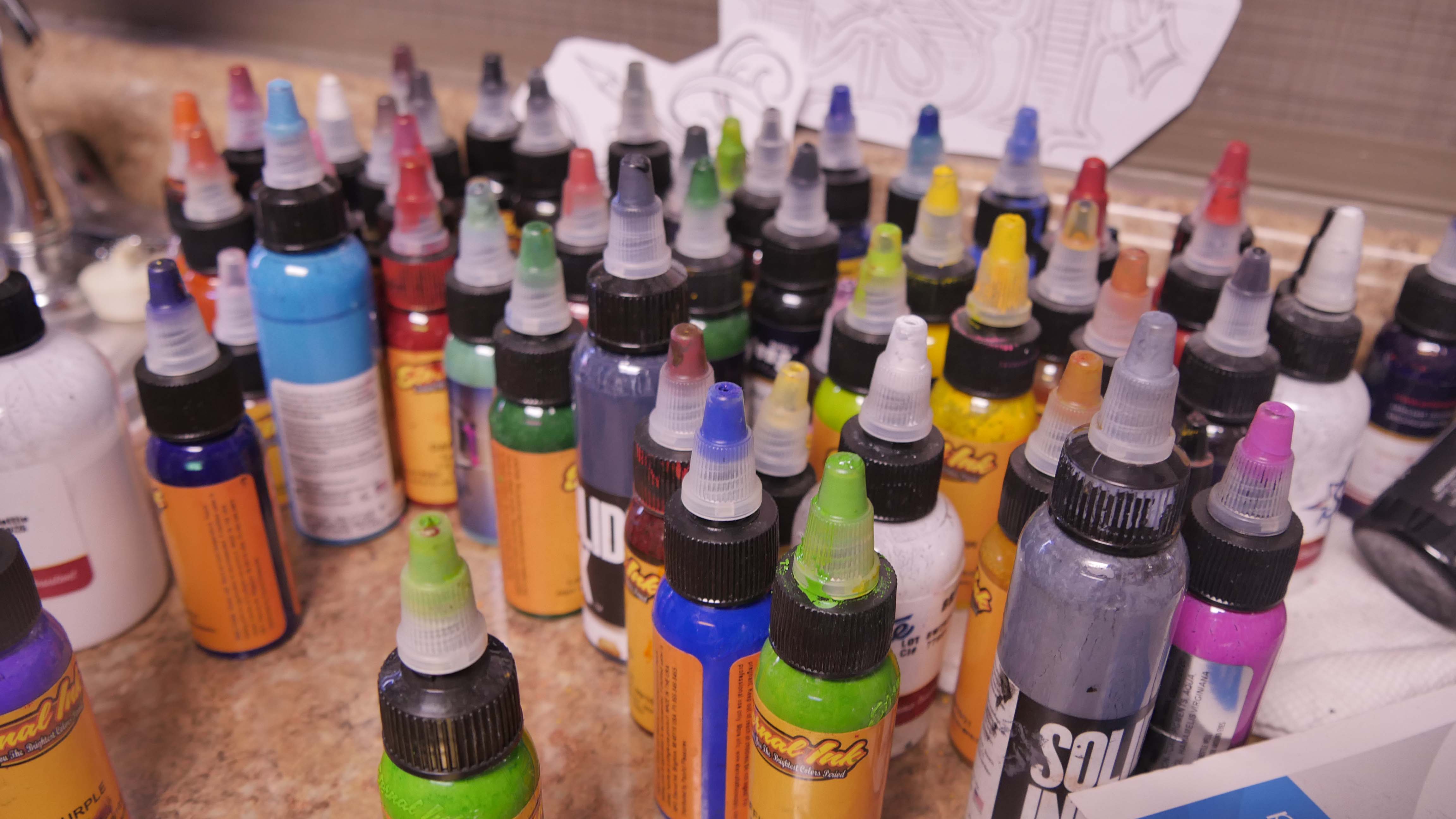 Arlington Kabob
Arlington Kabob, located at 5046 Langston Blvd, features a variety of beef, chicken and lamb kabobs all served with rice, one side vegetable and a clay tandoori baked naan. Or have your lamb in a gyro or shawarma.
Skewers of kabobs grill for about 50 minutes while fresh dough naan bakes on the side of a tandoor oven nearby. Chef Ali prepares a carry out family combo platter with scoops of brown and white rice, naan and a combination of kabobs and kofta. A catering corporate lunch menu is also available.
Susan Clemente who opened the restaurant in 2013 said she has retired back here in Arlington and is taking care of the neighborhood. "I cook myself with fresh ingredients in small batches—onions, garlic and meat, cinnamon, rosemary—simple food, very light and good for the body. People work all day and want to pick up something healthy."
Clemente says she came here from England, and she liked America so she stayed here. Her parents were Turkish and Afghan so she grew up early eating a lot of Mediterranean food—simple but tasty. She had been in the restaurant business for 30 years, then took a break when her daughter went away to college in California. Now she's back and comments that Lee Highway and Wilson Boulevard have changed dramatically since the 80s with all the high rises and thousands of great places to eat. 
She has another Afghan restaurant located at Courthouse. Arlington Kabob made it through COVID with curbside pick up and lots of neighborhood support. She says it was difficult maintaining safety protocols in the confined space in the hot kitchen with masks on, especially the employee working 10 hours at the 700 degree naan oven. 
But she says the Courthouse location was more difficult because it relied on workers who weren't in their offices during COVID. But beyond COVID, she says what really hurt was the cost of food going up. "All the places were raising prices but I couldn't pass on the 17 percent because people weren't working. It hasn't let up. I don't know if it will."
Clemente says if you are going to start a restaurant you need to be sure of yourself and work person to person. Don't put somebody else in charge. "You need to walk in yourself and be sure things are fresh. Back home people would hang out at the restaurant; they would know each other. These things are very important. Arlington is a tight knit community. It's that kind of place."