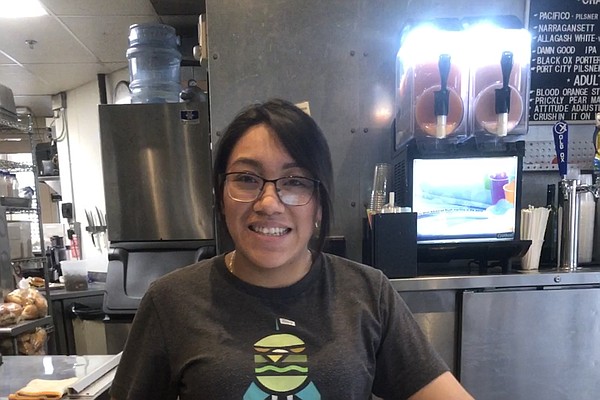 Wednesday, January 25, 2023
Okay, I confess, I didn't actually make it to restaurant week. I looked at the list. I googled the participating restaurants. It made me hungry. I wanted to go to Wren, the Japanese restaurant, Spice Kraft in Clarendon, and the Big Buns in Shirlington, because I was headed to a movie there, and the pictures of burgers made me crave one. But in the end, the stars did not align. It was Sunday night. Wren was in McLean. The latter two were closed by 9 pm and that's just when I get hungry. (I'm from New York). 
So I went AFTER restaurant week to Big Buns, this time in Ballston, and despite the name, which I find short on inspiration, the spicy designer burger I chose definitely scratched my burger itch. The meat was very good. The french fries were perfect. The drinks by Maine Root were very good. The buns weren't bad either - brioche - but not that big. It's a functional, bare bones burger joint with somewhat jarring green decor, cement flooring, and bicycles hanging from the walls for no apparent reason except to make it more hip. It gets the job done, and if that sounds like faint praise, it's not. This is a burger joint but oh so much better than most, and the helpful Maria Sanchez serving us with a nice smile made me glad I had been shown the way there by the restaurant week list. 
The second pleasant surprise was Spice Kraft Indian Bistro, the Indian restaurant on the corner of Clarendon Boulevard and N. Highland Street. Again, the name baffles me, but "Taj Mahal" and "Star of India" were probably taken. And calling it a bistro turned out to be a self-fulfilling prophecy. It has a bistro feel. Date night couples and old Indian hands were having fun in the churning, boisterous dining room. 
Spice Kraft replaced another Indian restaurant in the same space, Delhi Club, which we went to once or twice when we were desperate, back when Arlington didn't have many restaurants. This time, our hostess was clever enough to fit us in without a reservation, and she negotiated the very crowded dining room with something approaching joy. We told her we were new customers and had been to the previous place, and she said quite firmly, "Spice Kraft is so much better than that." It was. The menu gave us a chance to construct our meal according to sauces and styles we liked, with the "protein" we liked, the spiciness we liked, and a generous dose of one of the reasons I love Indian food, Naan. The servers were adept, nimble, and fast. It was almost like being in Delhi. 
Restaurant week got me out to eat, highlighted some places I'd never heard of, and made me wish more restaurants in the area would sign up. 
Spice Kraft Indian Bistro, 1135 North Highland Street, Arlington. 703-527-5666.Open lunchtime, 11:30 am-2:30 pm, evenings 5-9 pm and 9:30 pm on Friday and Saturday. Closed Mondays.
Big Buns, 4401 Wilson Blvd.Arlington, VA 22203
703-276-3032; Sunday - Thursday 11a - 9:05p; Fri- Sat 11a - 10:05 p.