Who knew your favorite neighborhood barbecue place had burgers? Now everyone knows the secret since Washington Post's food critic Tim Carman rated 45 local burgers, rating the hamburger at Sloppy Mama's BBQ number three in the D.C. metro area. Carman said the burger blew him away which "probably boils down to animal fat and lots of it."
Joe "Hogsmoker" Neuman, owner of Sloppy Mama's BBQ says the frequent customer response has been, "I never noticed you had burgers; I always came for the barbecue." The first weekend after the article appeared Neuman says, "Things went bonkers." Neuman says on a normal Saturday they would sell 300 burgers but after the article came out they sold 600. "There was a line down the sidewalk. 
"I was on a pig roast in West Virginia, and three of our regular employees were at the Columbia Pike Blues Fest that Saturday. I had brought in former employees but we couldn't keep up. We couldn't grind meat fast enough. The staff thought she had enough to get through lunch but it was gone in 20 minutes."
Neuman says he put the burger on the menu in the summer of 2020. But it just sat there. Now burger sales have zipped to second place behind the brisket. "A lot of people come two times a week, once for barbecue and a second time for their burger fix. Or they may order a platter of barbecue and throw on a couple of burgers to share."
Neuman says the meat for the burger is a byproduct of an aggressive brisket trim in order to make the briskets a uniform shape for cooking. So the burger is made of prime brisket trimmings which are ground in house daily, and each burger is made to order. "We don't put on a lot of toppings. We are anti-lettuce and tomato to cover up bad meat." He says they add salt and pepper and happy sprinkles.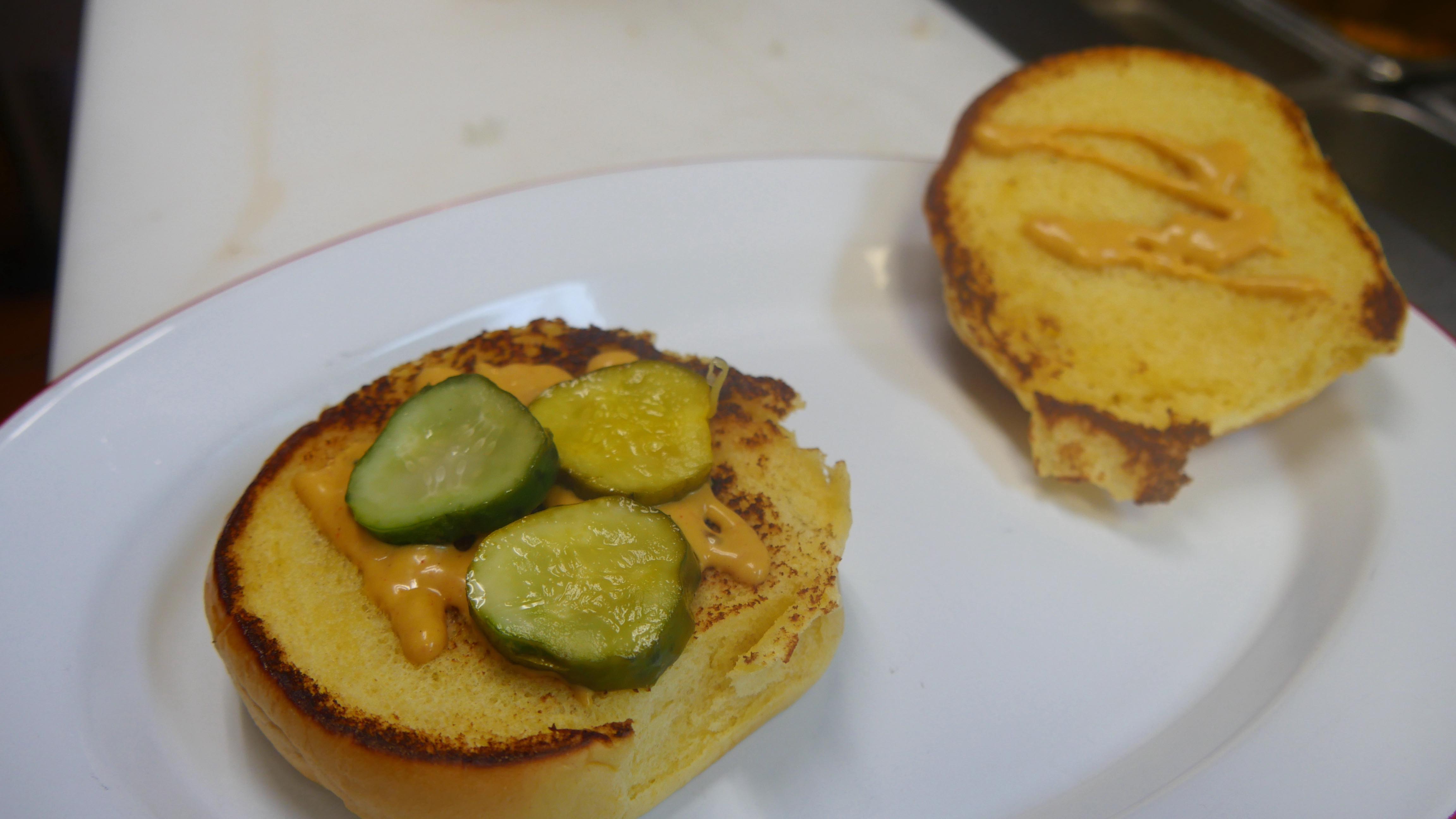 Burger topped with special sauce, hot sweet pickles and placed on a potato roll. Neuman says they smash up the patty and press in chopped onion. "Then we top it with American cheese (the people's cheese), our house made hot sweet pickles and add on our special sauce," which he confides is a mixture of ketchup, mustard, mayonnaise and happy sprinkles. He explains happy sprinkles are his creation of about 30 or so spices including paprika, cumin, coriander, mustard seed, thyme, chili powder and … all the rest. The burger is put on a potato bun with one side of the bun grilled with tallow.
Now the burger craze has resulted in ordering new kitchen equipment which is expected to arrive Aug. 2 "so we can make more burgers. Currently our workspace is 2'x2' and we can only make ten patties at a time." 
When he is not making burgers and barbecue, Neuman is inventing special menus for various holidays. "We had smoked corn beef and cabbage for our St. Patrick's Day special. We blend something traditional with what we do. We had fun with it. For Cinco de Mayo, we had smoked al pastor, something inventive but not in a weird way." 
He says Thanksgiving is sold out every year with 140 orders on Thanksgiving alone and 120 cold pick ups on Wednesday. "We had to get a refrigerated truck. We did massive business."
Currently Sloppy Mama's BBQ is in the middle of the voting for NoVA Burger Wars 2023, competing with 32 other restaurants. They just won phase two voting. Phase three voting ends Wednesday, July 26 at 11:59 p.m.