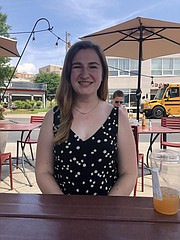 Maureen Coffey is a lifelong resident of Northern Virginia. She works as a public policy expert, and has served on the Arlington Civic Federation.
Coffey walked, on short notice, from her Clarendon apartment to Northside Social, claiming a table for the interview, displaying a big smile. 
Arlington Connection (AC): What single thing prompted you to run for County Board? 
Maureen Coffey (MC): Affordability and cost of living. Northern Virginia is the only home I have. I don't want to be unable to live here. 
AC: What is your position on lot coverage? (Many Arlingtonians have voiced concern about the ratio of building to land in new housing development in Arlington.) 
MC: We need to address this. We aren't using our land efficiently; lot coverage has a negative impact on stormwater. 
AC: What is one County Board decision you would not have voted for in the past few years? 
MC: Let me think about that. 
AC: How would you define the Arlington Way and do you think it remains a strong element in the county?
MC: The theory of the Arlington Way is everyone's voice comes to the table, they provide evidence and data, the community gets to provide feedback, and the county incorporates that into a plan. It's broken on both sides. We need more from the county that lays out tradeoffs and information; and as a community we need to engage far more with different types of people. It's not just the people who are easiest to engage. We need to layer forms of communication. The county thinks if they do one thing really well (like a website) then it does the job well enough. Missing Middle (MM) is a good example. The county shouldn't have made a decision on MM without all the inputs. How do we find the people who don't or can't show up? We need focus groups where people are selected rather than letting them self-select. I watched the whole planning process and kept an excel spreadsheet on it. I had a column for people who were either 'not for' or 'against.' During the entire planning process there were two people I could put in that column. Everyone had already reached a conclusion. On MM: we need to rebuild trust. The county can't say "we hear you" and then not follow up. If the county can't do what is asked, they need to respond: "We understand. Here are the barriers. Here is why we can't do it that way." The county had answers they were comfortable with — but they didn't respond why they were moving forward despite the concerns. They should have said, "If the zoning change becomes a problem, we are prepared to fix it." 
AC: Rising crime in Arlington: what is one thing you would do to assure residents Arlington remains a safe place to live and work? 
MC: It's a national trend: Arlington is not unique or immune. The county can work on economic stability; we need more community based programs. 
AC: Would you like to see the county be more willing to invest in the rescue of historic homes than they have recently with the Fellows-McGrath, Broyhill, and Rouse mansions? 
MC: The Rouse property was sold by the family trust to developers. Developers have already figured out what they want, but we as a county are behind the curve. We are going to get 40 townhomes on that land because we were not ahead of it. There has to be a plan to offer the property owner done way in advance. 
AC: How familiar are you with the stormwater management issues in the County? 
MC: Pretty familiar. I've read the comprehensive strategic plan. The runoff problems are an unfortunate product of fast development; it goes back to lot coverage. We need more enforcement. Impermeable surfaces are still being laid down. Why? 
AC: What are some areas where Arlington County could cut costs? 
MC: One of the biggest: the consultants we pay. Every project has an outside consultant attached to it. It's not a one-off. We could have trained people on staff to do it. Consultants should be people who are invested in the area, not consultants from Austin or Atlanta.
AC: What is the single best thing about Arlington that attracts people to live here? 
MC:The Community. Engaging with neighbors. Spaces people are sharing together. Recognizing people on the street like in a small town. 
AC: No matter the outcome, what will you take away from running for board?
MC: The biggest thing I have taken away is how strong and deep our bubbles are: Metro corridor versus real suburban. When I am talking about 13 percent rent increases, the people who don't rent have no idea. We aren't talking to each other enough. We are too focused on what is happening in our bubble. 
AC: What is one question I didn't ask that you wished I had? 
MC: What are the non-glamorous County Board responsibilities that I want to take on? Sexual assault response team, working with women and other groups about how we take care of people, zero homelessness, I want to get us across that finish line. People feel alone and need a resource for sexual assault or mental health issues. I want more community discussions to get this done. 
More at https://maureencoffey.com/